Hire Talented Break Dancers | B-Boys that will Leave your Guests in Awe
Through passion and dedication, these break dancers create intricate choreographed routines. A showcase of flips, head spins, fancy footwork and acrobatic feats are certain to turn up the heat at your next event and be the talk of the night. Our B-
Boys will have the crowds hopping along to the beat with "out of this world" stunts and big flare moves.

Perfect for Brand Activations or Product launches their staged choreographed acts also perfectly compliment any coroporate function. Discover the power of this incredible dance phenomenon which is a true showcase of human agility.

Book our passionate crew of B-Boys and provide a truly unique entertainment solution your guests will rave.
Locations: Johannesburg, Cape Town - Available for Travel
Watch the Video below and see why Break Dancing is perfect for your Event
A brief history of Break Dancing and its street dancing origins.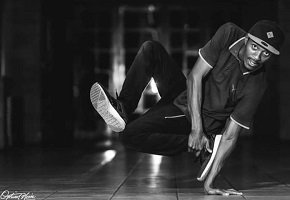 Break dancers practise such a different style of dance, that people often wonder where the artists learned these fascinating moves.
Break dancing originated in the South Bronx of New York City during the early 1970's. It is rumoured that it all began when rival gangs used street dancing as a method to settle territorial disputes. The winner would be determined by taking turns to display a set of complicated moves and outperform the opposition.

By the late seventies, the dance had evolved. A new style of Breaking had emerged, including a lot of acrobatic moves and the well-known headspins amongst others. Break dancing soon took the world by storm, with the help of popular movies like Flashdance , Breakin' and Beatstreet.
After the eighties, Breaking faded a bit into obscurity, but today it is back in full force and has evolved into a specialised art. Unimaginable acrobatic dance moves have developed from the earlier basic form, but never lost its energy and ability to stun and amaze the crowds.


Fire Desire Entertainment has a range of Professional Dance Acts available:
Fire Dancers Belly Dancers LED Dancers
Contact Us Our Expert Entertainment Coordinators will assist in making your Event Unforgettable!